I recently had a private sewing student who wanted to make a holiday dress for her granddaughter. She wanted a dress made with Navy blue, organza, satin, and a large bow sash. For our project, she chose to use McCalls 5795.
Mccalls 5795









This dress is fully lined, has a skirt overlay of organza and a flower and bow sash. It was tricky project for a newbie but, together, we ended up with a very satisfying result. Sorry for the picture quality on this one. This was a test size picture on my daughter, but you get the gist.
Mccalls 5795
Her project got me thinking about making a lovely holiday dress for my Little Miss. The McCalls dress was a lot of work with a lined bodice and three layers of heavy gathering in the skirt. This last fact made inserting the zipper more trouble than I wanted to venture into again. I chose instead to use Simplicity 5704 from my stash.
I chose this pattern because it did not require full lining, but also gave various sleeve and neckline options. It was shorter than I wanted but that was easily remedied.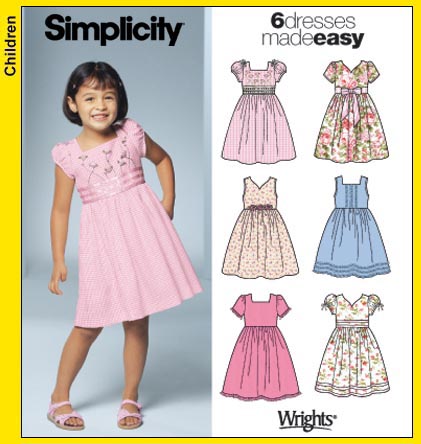 Simplicity 5704
On a recent trip to Walmart, I found snowflake organza in Turquoise Ice. Given that Frozen mania is still alive and well here, I knew I had to buy it. I paired it
with white satin from my stash, I went to work.
Snowflake Organza
Taking inspiration from the McCalls dress I chose to use the organza as an overlay for the skirt and sleeves. I lengthened it to the length of the size 8 and made the rest of the dress is size 5. I also chose to use the sash from the McCalls pattern. The McCalls dress uses facings for the bodice rather than full lining. Here is the completed dress.
Snowflake Dress
Sleeve Detail
I cut the overlay 3 inches longer than the skirt.
I finished the hem with a 3-thread rolled napkin edge.
Every princess needs a tiara.
Best of all, it is great for playtime!

Project Breakdown:
Pattern and

Fabric cutting time: 45 minutes.
Approximate Fabric Yardage: 2.5 Yards
Approximate Sewing time: 3 hours
Grateful hugs, kisses and cuddles: Endless
Happy Sewing,
Bianca