Drama, Drama! Drama! My life of late, has been filled with drama. Most recently, I have been recovering from my 4th knee surgery to repair a failure of the 3rd procedure. Right when I was regaining my mobility and sanity, despite succeeding in avoiding Covid-19 for 2 years, our family got it. The timing could not have been worse as it meant spending the week of our 20th anniversary shivering in bed, in the not fun way. We are all on the mend now and I am able to get back to my sewing room.
You know I love a garment with a bit of interest and drama. If you have been hanging with me for awhile, you also know I default to vintage and retro patterns. The styles are fun, patterns are sometimes cut, and can be bought at a steal. It takes a something special for me to switch it up to a different company. I recently stumbled upon the Toni Designer Dress by Style Arc. I love the details of the high collar, side drapes, and the side pockets.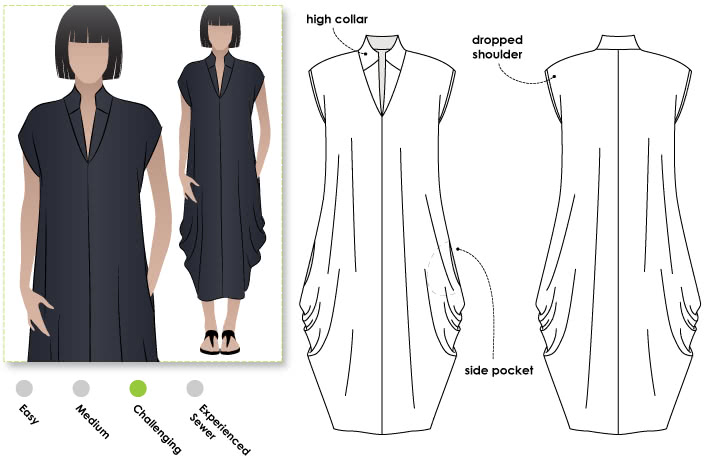 This pattern has been out for a minute so I searched other examples for inspiration. I liked the structure of those made with woven fabrics. For my first version, I chose, this Lake Heather Hemp Chambray from Nature's Fabric. It is a hemp, recycled polyester and spandex blend.
This is my first time sewing a Style Arc pattern. This dress is classified as "Challenging" largely because of the collar construction. I however, found the cutting lines to be a bit tricky. I followed the colored line for my size, but there were other markings on the body of the dress that were not clear to me. Granted, my leg pain and Covid-19 fatigue contributed to my perceptions of the difficulty.
Mid Century Pattern Weights available in my store.
In the end, I did not stress my confusion, I decided to roll with it and hoped it would come together.
The collar instructions were clear with photos, but the rest of the instructions could have benefitted with some more. I am a visual learner, so showing me what should happen is helpful. The use of "facing" for interfacing and "facing" for right side of the fabric was confusing for a moment. In the end, it all worked out and I am happy with the finished dress.
The collar can be flipped down,
The sizing is generous and there is a lot of ease. I cut it based on my bust, but should have sized down by one size for a woven or two for a knit. I ended up removing about six inches all around.
The pattern suggested adding weights to the inside point side seams to help the draping. I chose not to and just let the fabric do what it will.
There were a few hiccups in making this dress, but it was worth it. I am glad I tried this new to me pattern company. This feels like a cool art teacher dress and I love it!