A couple weeks ago, I stumbled upon a $.99 sale. I wasn't looking or planning to buy patterns until I saw Simplicity 8295.
I like tunics, mini dresses and that combined with the placket options drew me to this one.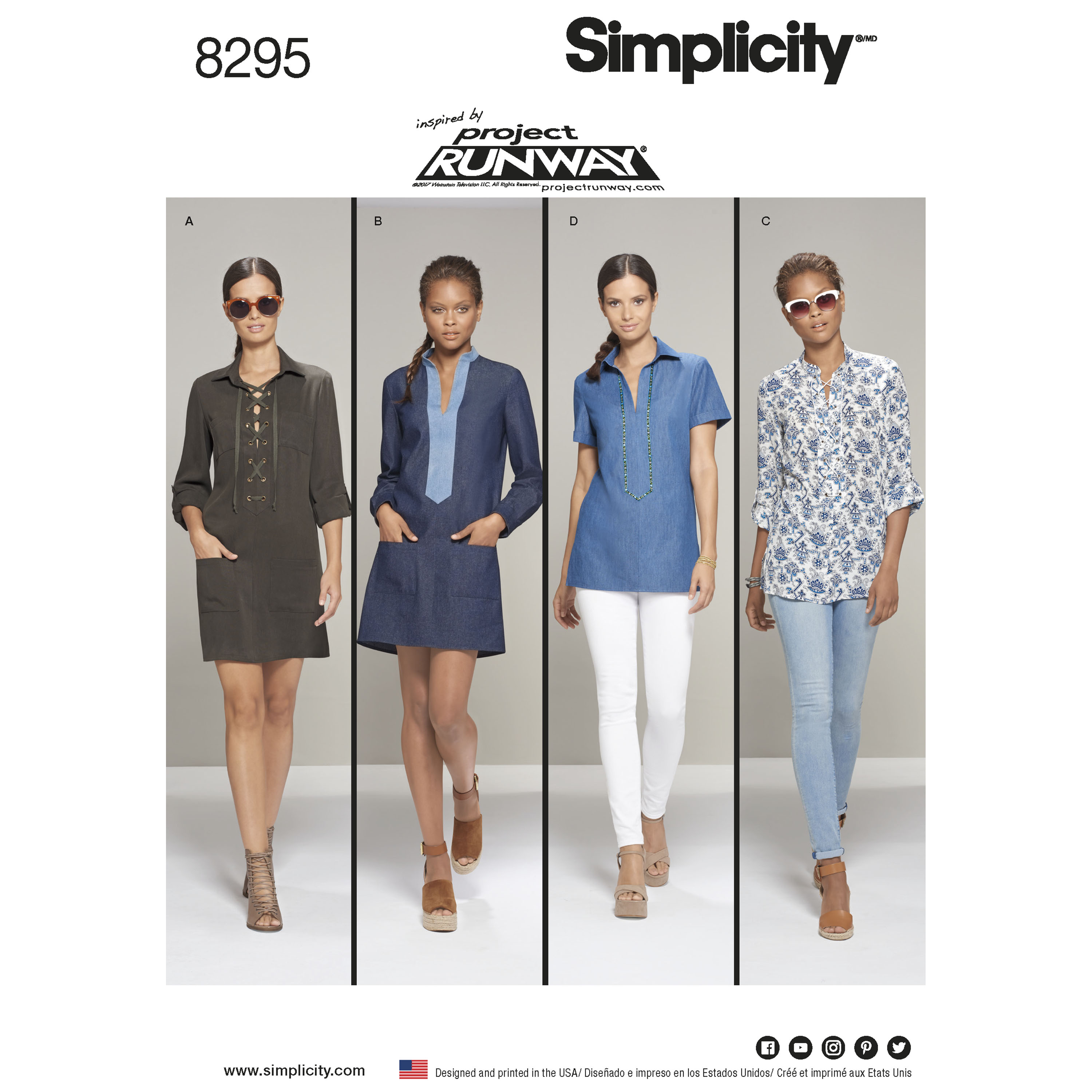 I am still having fun making my fabric (see previous post) and wanted one for this dress. For the base, I used
a white on white dot cotton from Joann Fabrics. I
airbrush
painted over it with a paint color that I blended myself. I accented the "Afro Stripe" design with woodblock stamps in double yellow and single black stars. I chose
black linen fabric for the contrasts.
I like view A and B and couldn't decide which to make. A poll on Instagram had the results split, so I went with B with modifications.The pattern called for a
contrast placket only, but I chose a contrast cuff too. The pattern also has exterior patch pockets, but I switched them out in favor of side seam pockets.
The instructions
for this are straight forward for an experienced sewist. A beginner would need to take it slow on the placket and sleeve details. The sleeve has a continuous lap on the pleated cuff, and a button tab. These elements on their own are not too much, but if you are a newbie, I suggest you take breaks to sew these elements with fresh eyes.
Once it was all said and done, I don't like the fit of the sleeve when pulled up by the tab. I have thin arms and it is tight to wear it pulled up. I am not sure if the linen and my interfacing made it inflexible or if the sizing there is off. It is not a deal breaker for me, but you should know. I think I will lower the button and get some more room.
I like that the back has a yoke pleat detail. It gives a bit of interest to balance the front.
This is a mini-dress. The length I am wearing is as is from the pattern. I thought it would be too short if I hemmed it at this length. I instead added black ribbon to the bottom and folded it back to hem it. When I make another, I will add an inch or two before cutting.
This one is a keeper. I will be making more for the warm Texas weather. I will be making more of this fabric as well. I have added the other prints I have made to my Etsy store. I will make this one only by special request in custom orders.