Is that a good or fair question? On this side of the answer, I am not so sure. Had I asked that question at the beginning of this project, the answer would have been so daunting, we may never have known! About year ago, on a trip to Austin, my family discovered Austin Creative Reuse, a resale store for makers and creatives. My family of 4 all loved the small store and everyone stocked up on supplies for technology-free entertainment.
We scored radical savings on our finds, but as the register was being rung, I felt I spent more than I planned. That fact did not turn my eye away from a bag of vintage fabric yo-yos on a shelf nearby. I am a sentimental fool and my heart broke for the person whose incomplete hand-sewn project was donated away. In my head, I concocted a scenario of their sudden tragic unexpected death and grief stricken relatives getting rid of them because of painful memories.

(Yes, I know it is possible that the person is alive and well and donated them as a UFO's they were de-stashing, but justify, justify)

. Anyway, my soft heart could not leave them behind and I added them to my purchases.
Upon inspection at home, I found that the bag contained strips of hand-sewn fabric yo-yos on the way to becoming a blanket and individual yo-yos not yet connected. My initial plan was to complete the blanket, but I found it wasn't functionally practical for the warmth I need for couch cuddling. I decided I wanted to wear it and found this image of Bjork for inspiration.
Her couture jacket is beautiful and I knew I could make my own version if I didn't overthink it and get overwhelmed by the prospect. The idea was in my head for months, but I did nothing with it because it seemed frivolous and unnecessary. Truly, where would I wear something like that? I have been trying to focus on practical sewing of things that will get daily use. So I set it aside.
Closet Case Files and True Bias are hosting the #sewfrosting community challenge on Instagram. The goal is to make a bold, brave, inventive garment that is less about the substance of "cake" sewing, and more about the fun and frothy "frosting". The challenge was the prefect time to gather those fabric circles and get making nothing I need, but something I want.
I used Simplicity 1108 to make the full length version of view C.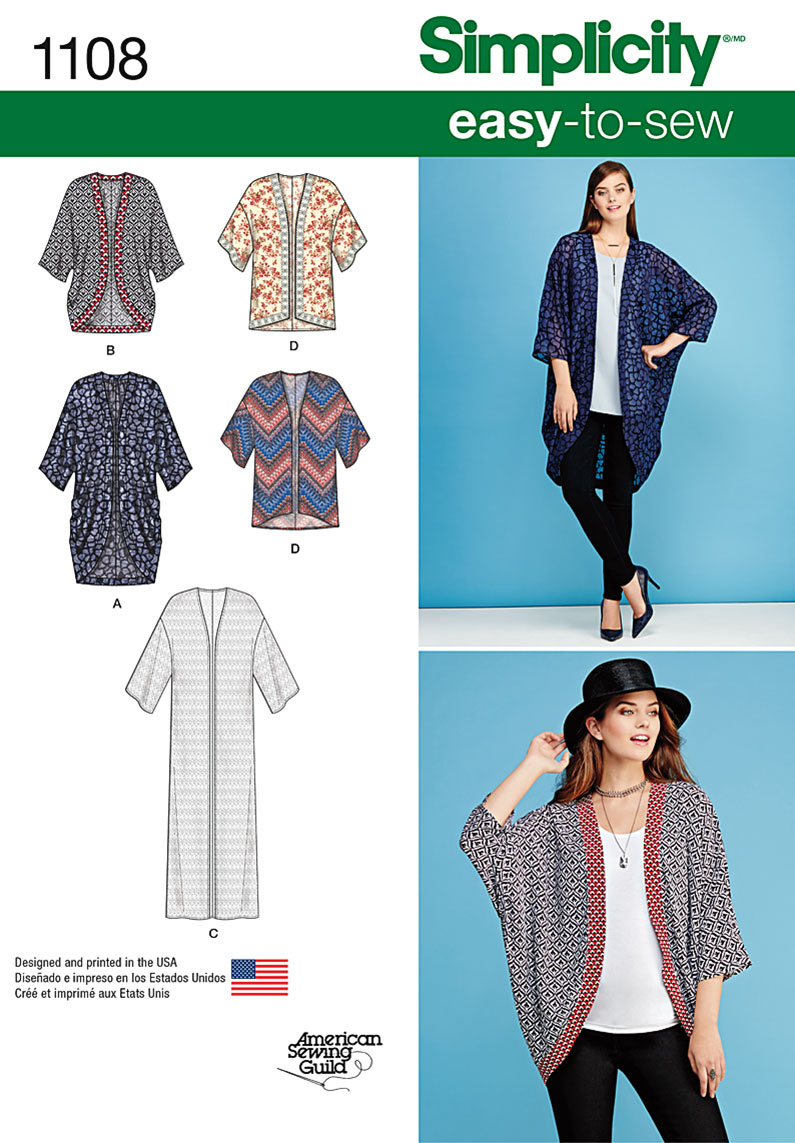 I made it up as I went and was not sure I would write about the process. Frankly, I wasn't sure anyone but me would be interested in wearing, much less making one. Now that it is done and I love it, I can advise you on how to proceed if you want to make your own.
Choose fabrics or scraps to make fabric yo-yos using a Quick yo-yo tool the size of your scraps will depend on the finished yo-yo size you are going for

Connect your yo-yos to each other at the sides with hand stitches and strong button and craft thread. This will make your "fabric."

Cut a pattern size down from what you would normally. When you make your yo-yo fabric, you will keep the yo-yo's intact at the seams rather than cut them down to fit the pattern.

This overhang will give you the extra ease lost in sizing down.

For center back, treat it as a single piece cut on a fold rather than 2 pieces with a center seam.

As you make your fabric, check your size progress against the pattern pieces

Once the fabric has been made to the corresponding pattern pieces, complete construction in the order described in the pattern. Omit the binding/facing and hemming instructions as the yo-yos will serve as the edges. I attempted to complete the construction with hand-sewn seams. I got as far as sewing the top and under shoulder seams by hand. It was time-consuming and as I contemplated my 5'8" frame, I opted to machine sew them.
I prefer the look of the hand sewn yo-yos for the general construction of the fabric. For the side seams, I am not mad at these machine sewn ones.
Because of the weight of the duster, I added a shorter front "collar" of yo-yos to the neckline for more support. The center front is closed with hook and eye closures on 5 sets of yo-yos.
I am really excited about this project. I love the artsy vibe and hand-crafted dedication that went into each little circle. I can imagine fabric scraps from completed garments, being collected in a basket more than 40 years ago; remnants of treasured garments made with love. I know this duster wasn't the original makers' plan, but I hope they would appreciate what I have done.
This will be a Fall staple for me as the temperatures begin to drop.
I will be at Quilt Market and Festival this week and next. I doubt I will be hard to spot in my coat of many colors, my wind blown Afro and my "Hell yeah! I made this!" strut.
Back to the original question, how many fabric yo-yos did I use to make a full length kimono? For this piece, FOUR HUNDRED AND SEVENTY SIX! 476!
FOUR HUNDRED AND SEVENTY SIX! 476!
If you are going to make one, I wish nimble fingers and happy sewing!