Oh the thrill of an impulse purchase!
Hers flipped rose gold, mine flipped black
I was recently at Joann Fabrics recently and fell in love with their reversible sequin fabric. We've seen it around on pillows and it small swatches of pockets on garments. Everyone of my family loves this fabric; it is so fun to play with. I had a 50% off coupon and the
rose gold/black variety really caught my eye.
My plan upon purchasing this fabric was to make a bomber jacket.
The minute I saw
McCalls 7686, I loved it for its' elevated take on the sporty garment.
I knew I wanted to make it this Fall and finding this fabric cinched the deal for me.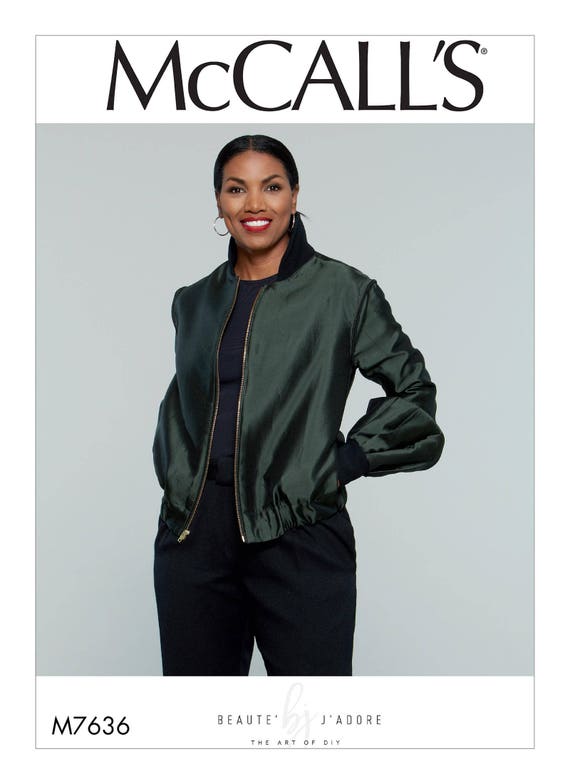 An impulsive decision is, by definition, one you have not thought about beforehand. I have sewn with sequin fabric before, but not this particular variety. Had I known what was involved before buying this, I may not have followed that impulse. After making my bomber
, I realized I had sufficient fabric to make a matching bomber for Little Miss.
I made my jacket the right way with all the necessary prep work. I attempted to make the second with shortcuts. In this post I will explain what I did in both and I advise you to do it the right way if you choose to make your own. Hopefully, you will be better prepared if a similar impulse hits you.
To make it the right way:
Cut out your pattern pieces and fabric using a rotary cutter with a sharp blade

Chalk trace the wrong side with the 5/8th inch seam allowance along the entire edge of your pieces

Using thick and durable button and craft thread, trace along the chalk line making sure your stitches are visible on the right side of the fabric
Remove all of your sequins from the seam allowance.

I tried many sewing and crafting tools that were at my disposal including razors, thread snips, and Xacto blades. After slow progress and cuts to my fingers, I went to the beauty cabinet. Using a

$0.33

eyebrow trimmer from the dollar store yielded the best results. It is a razor wrapped in wire so I was able to cut the individual threads without damaging the mesh beneath. This was a very slow and tedious process. Watching reruns of Sherlock helped the time go by easier.
Once all the sequins were removed from the seam allowances, remove the basting threads and begin sewing. I used my zipper foot to be certain I was getting as close to the sequins as possible without sewing over them. I used the 3.5 stitch length.
I found it better to work with wonder clips rather than pinning as they held the slippery fabric together great.
My bomber jacket is fully lined. I really appreciate that the lining is attached at the sleeve ends and the elastic casing at the waistband. I am not a fan of the other lining attachment methods. Because of the sequin fabric, I could not machine sew it in place as directed in the pattern. I could have removed the sequins along the right side stitching line. I chose instead to attach the lining to the body of the jacket by hand-sewing it in place.
As I was sewing this super sparkly fabric, I thought the sequin body and sleeve would be overwhelming and I considered using contrast. Now that it is all made up, I like it a lot in all sequins.
There is a bit of contrast on the collar and at the sleeve cuffs.
After making my bomber and seeing her excitement about mine, I decided to surprise Little Miss with a jacket for her birthday. This was another impulsive decision made a few short days in advance. :)
We bought Simplicity 8429 with a plan for a denim bomber with emoji patches. It was perfect to make a contrast version for her.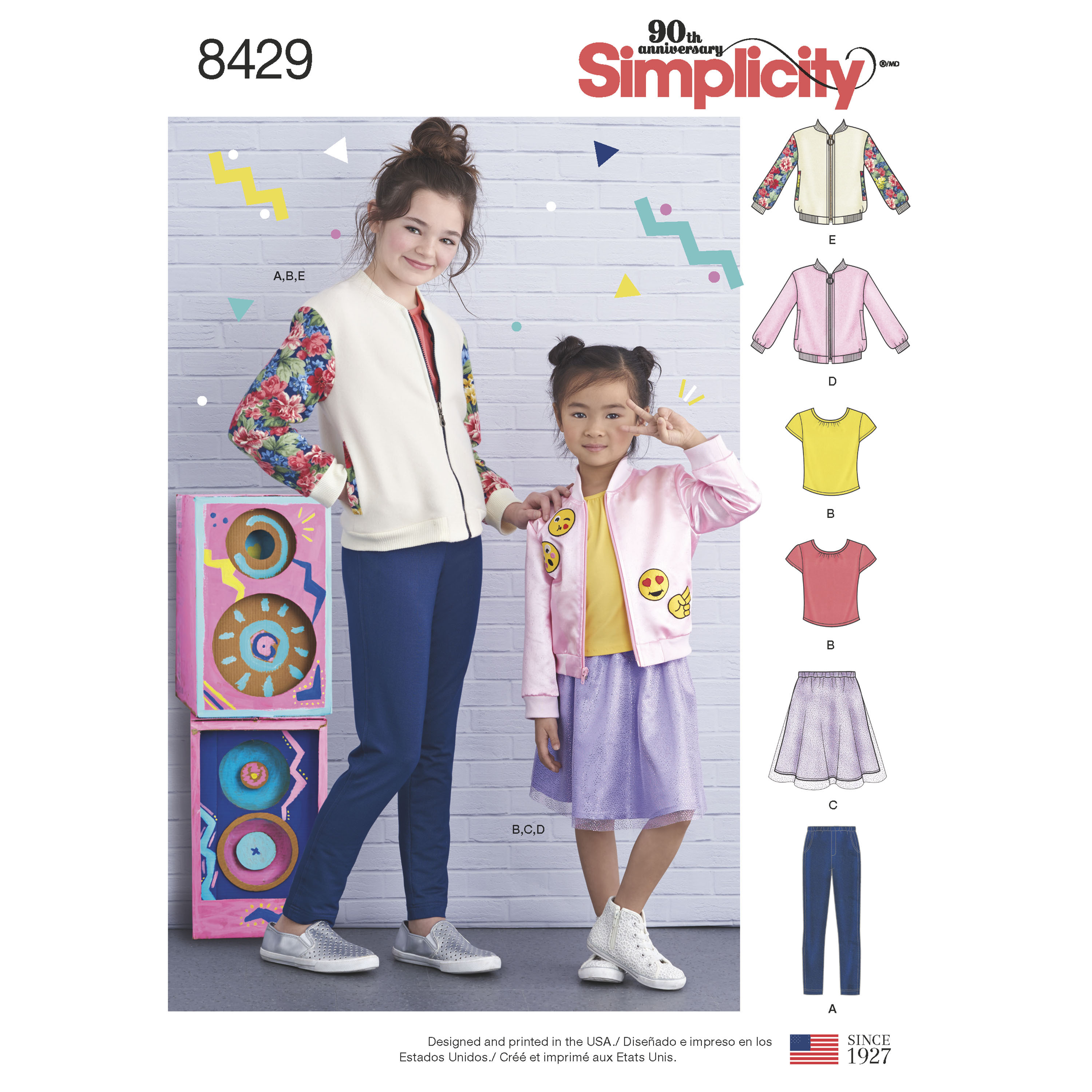 I did not have two days to dedicate to removing the sequins from the seam allowances on her jacket. I have a heavy-duty Singer, multiple Brother machines, and a Sailrite for sewing heavy canvas and leather. With my limited time, I was fairly confident in my ability to sew over the sequins without having to remove them first. Wrong!
I attempted many times on my various machines all with the same result; broken needles and sequins flying in my face. I gave up the ghost when the only thing that saved me from losing an eye to a projectile, were my glasses.
Fortunately, she is little and I was able to work quickly to remove the sequins as I should have done in the beginning. With the contrast sleeves and waste cuff, there were fewer seams to shave. Admittedly, I was less precise with no chalk outlining or thread tracing. I simply eyeballed from the right side of the fabric. After making mine, I think my muscle memory had been set.
Her bomber is not lined but the sequin in the seams are not comfortable. I encased them in fusible fleece and she's fine with that. If she were older, not growing so much and likely to get more use out of it, I would certainly line it. We live in Texas so the shelf life on this particular one has its limits. Additionally, I'm pretty certain when she outgrows hers, she will be reaching for mine.
I sure did come up with a lot of justifications to bring this project to a close! :)
Hers flipped to black, mine flipped to rose gold
So to recap, when sewing with reversible sequins,
Make a garment with limited seams

Chalk and thread trace seams to remove the sequins from the seam allowances.

To get close to your seams u

se a zipper foot to sew garment together.
Sequins mixed
I love the way both of these turned out. She loves our matching outfits and I will savor that always. Some day, I may get an "Um, no Mama" eye roll with the mere suggestion. Until then, I will keep sewing for Mommy and Me. The Little Man has put in requests for Mommy and He, so I will ride this train to the end of the line.
As I mentioned, I was watching Sherlock when I was making these. A villain in a confrontation with him called Sherlock a psychopath.
Before Sherlock ended the conflict with a bullet, he
corrected the bad guy by saying, "I am not a psychopath, I am a high-functioning sociopath." There were moments of madness in sewing these bomber jackets and that thought resonated with me.
I designed these t-shirts to communicate to the world who I am, a "High-Functioning Sewciopath". I am one who can be antisocial in my sewing behaviors prioritizing it over other similar activities. When seeing a successful result, I have little remorse over the time and money invested, knowing I will do it again and again.
I debuted the shirt at The International Quit Festival in Houston last week. It was a delight to see the smiles of people who appreciated the sentiment and defined i
t in their own terms.
It was so cool to see other "Sewciopaths" as I walked the festival floor. I received knowing smiles, nods of agreement and bursts of appreciative laughter.
I sold many of them to people who bought them for themselves and their sew crazy and sewaholic friends.
If you would like to buy one, I
have listed them in my Etsy store
.
Use code SPATH20 to s
ave 20% in the store through Saturday.
Happy Sewing,
Bianca