In my recent quest to find jumpsuit to make, I discovered that I had five vintage patterns in my collection. Some of these were inherited, others bought in a bundle with ones I loved. The Pattern Stash Contest on PR, had me looking in my stash again to make something I was once excited about. I enjoy wearing my Simplicity Jumpsuit and decided to make another. This time I decided to use my Vogue 1389 Leo Narducci Jumpsuit pattern.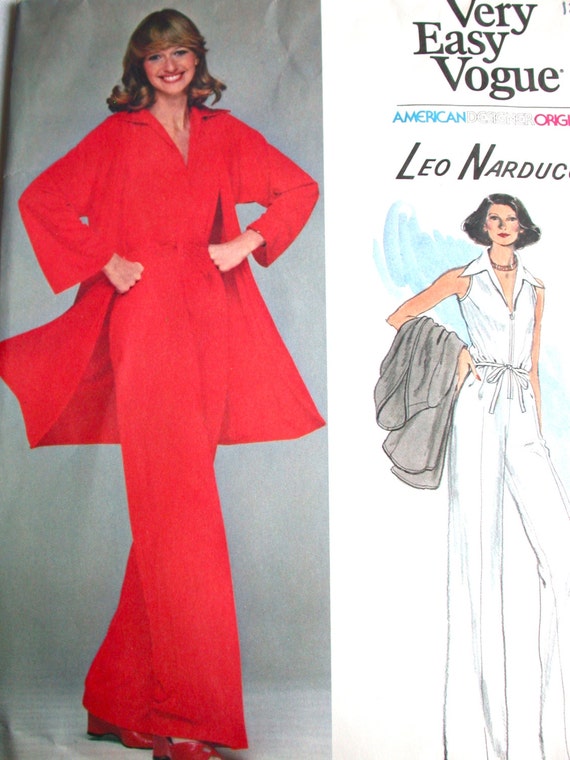 This

sleeveless jumpsuit has shawl collar with front slit, front zipper closing and cutaway armholes with self bias bands. The

s

elf belt holds in fullness at waistline.

Included is a s

lightly flared cardigan jacket has front and neckline band, cutaway armholes and full-length sleeves.
When I first saw this pattern, I liked that the jumpsuit pieces were continuous, without a separation at the waist. Looking at it, I was not crazy about the width of the collar

.

I chose to

sew

it as intended before modifying it

. I really wanted to make this in a white cotton spandex, but I did not have enough of it in my stash.
If you are a follower of this blog or have liked the Facebook page, you know I have a vast fabric stash. After my recent acquisition of 120 cuts of fabric in various lengths, types and colors, I could not justify purchasing fabric for this garment. I opted to use a navy blue seersucker from my stash. I choose it because I wanted a fabric that would be cool in the Texas heat and need little ironing.
The instructions, as always, were

easy to follow. The only e

xception was the facing illustration. The picture and language were a bit tricky for me.

I do not think it would be a problem for most. I am a visual learner and the illustration was simply not clear to me. I just thought about what needed to happen and figured it out fairly quickly.
The instructions required installing a regular zipper I chose to use
an invisible zipper.

I am torn about t

he depth of the neckline. I think it is about 1-inch to low for my

taste showing cleavage. It does not gape, so with a blue bra, I should be fine. I wanted a deep hem so I added three inches to the leg length before cutting it out.
This was a fast project to make and I am

happy

with the result. It is the kind of garment that requires an Afro puff and ginormous sunglasses.
If you want to sew in your time machine, this pattern is available through several Etsy vendors.
Happy Sewing,
Bianca