So I was kinda in love with the Simplicity 8124 Cynthia Rowley off the shoulder dress when I saw it. It is fun and flirty and I thought it would be cute to make. I have seen pattern reviews and loved a few. I had doubts about the length and fabric fullness at the bust, but decided to give it a go.
My dress did not turn out as expected; it was a disaster! There is so much ease in this dress it was unflattering. The shoulders kept rolling up and when down, I felt like I could not raise my arms. I spent some time fiddling with it to make it work. In the end, decided to move on.
I thought I had a similar style in my stash and found Simplicity Jiffy 8978. I used it to make a dress a few years ago that was hidden in my closet. It was the look and feel for which I was going.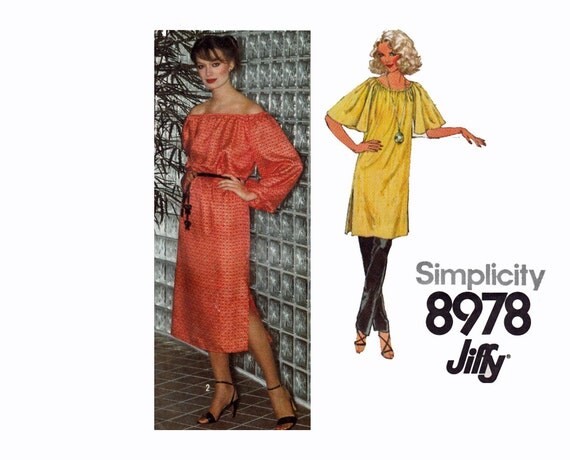 I shortened the dress to the point of the side slits of the pattern and whipped this up.
I love the narrower silhouette and wide drapey sleeves. The shoulders stay in place and are very comfortable.
I like that if I choose, I can wear the shoulders up too!
It feels good to bounce back from a sewing fail with a good result.
It was so fast to come together, I made another in an Ankara, wax print.
The weight of the wax print is heavier than the lightweight denim of the other dress. This makes the sleeves stand up in a slightly more structured way and it gathers less on the elastic.
I love that a bold fabric like this wax print can take a simple shape and add some drama.
This was the feel I was hoping for with my Simplicity 8124 version.
I compared the pattern pieces for both patterns to see the difference. There is an 4-inch difference at the fold on the front and back.
That is a 16-inch difference around!
The rest of the pattern is pretty much the same.
Cynthia Rowley -----------------------------------------Out of Print Jiffy
If you want a more streamlined version of the Cynthia Rowley dress, cut your size then fold that pattern down four inches before cutting your fabric. There is a wider triangular base on the C.R. pattern which you can taper down if you like. My concern was the bulk at the bust so I would leave that part alone.
Happy Sewing,
Bianca