Oh my goodness, I love this jumpsuit!
I had big plans for my most recent acquisition from Natures Fabrics. I ordered three black and white prints with large Polka Dots, large stripes and micro stripes . My plan was to incorporate these three fabrics into a fun outfit. I planned on a slim leg stripe jumpsuit with a fun polka dot over-skirt.
I chose to sew Simplicity 1158, but when I saw the wide leg view, my '70's soul child spoke up and I made a switch up. I loved the dramatic vision of the over skirt, but as I thought about practicality, I couldn't go through with it. I have skinny calves and couldn't see myself wearing the slim leg jumpsuit without the over skirt. I also couldn't see myself wearing the dramatic combo in everyday life.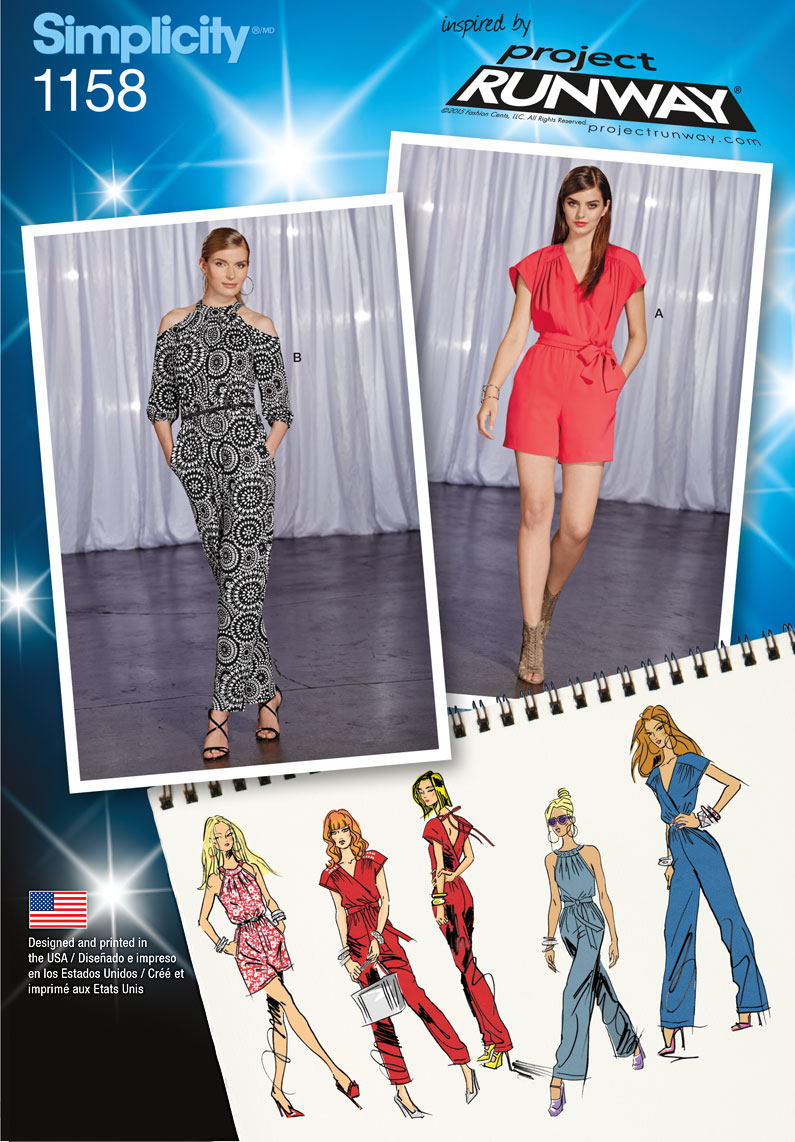 I decided to go with a simpler, yet wearable look. I went with the micro stripes for the bodice and the large stripes for the pants, the yoke and the back ties.
To pull it all together, I made the waist tie with a solid black cotton from my stash.
The pattern construction was straight forward, but I made a few tweaks. The pattern is drafted for woven fabrics, but I used knits. Both are very stable with good recovery. This allowed me to cut them on the cross-grain to showcase vertical stripes.
Laser-cut pattern weights available in my Etsy store.
I added a bias casing to accommodate the elastic instead of using the suggested, folded up seam allowance casing. Such narrow casings are ridiculous to me. With the added bulk of the pockets, it would be a task to get the elastic through without a headache; I wasn't about to fiddle with that. I centered the casing over the seam line and stitched the edges down leaving an opening for insertion.
This change allowed me to use wider elastic and makes for a more visually prominent waistline when it is not belted.
I shortened the "sleeves" by 1 1/2 inches. After construction, I felt it porturded too far giving a 80's shoulder pad vibe. I cut them down and re-hemmed with my cover stitch machine.
The change to a knit fabric meant there is more flexibility and ease of getting in and out of this. The back overlap is secured only with the neck ties to allow for getting in and out easily with a woven. It is unnecessary with this fabric so I will stitch across the back overlap so it goes not fall open with wear.
Every time I make a jumpsuit or see one on social media, there is a comment about the impossibility of using the bathroom while wearing one. I don't understand that. I have been potty-trained for 40+ years. I know when I need to go and how to hold it if the restroom is less than ideal. "But you have to get naked in the bathroom!" If I didn't wear underwear daily, I still wouldn't be concerned, the bathroom is the most (second most?) naked friendly room I know of.
There are probably larger issues behind the jumpsuit objections, the ones I can come up with are all medical. If health problems are the root of these objections, I will mind my own business.
Jumpsuits have been around and keep coming back around into fashion and I am here for it! This is my second jumpsuit of the year and I foresee more to come!
This pattern has been in my stash for a few years and I am glad I made it up. I think I will get lots of wear with this one. I will be making assorted waist ties to add pops of color versatility for greater use.
On which side do you fall in the jumpsuit debate? Do you wear them or is it a pass for you?
Happy Sewing,
Bianca